As a parent, your number one priority is keeping your children safe. But children are curious by nature and often don't know what is safe and what isn't. That's why safety rules are essential inside and outside the house. Of course, constant adult supervision is always the best way to keep children safe, but there are other measures you can take as well. For example, you can install safety gates at the top and bottom of stairs and ensure all doors and windows are locked when you're not home. You can also teach your children about stranger danger and what to do if they get lost. You can help keep your children safe and sound by taking simple precautions. So in this blog post, we'll discuss the general safety rules you should teach your children.
Top 10 General Safety Rules For Kids At School
You may always want to be present near your kid as a parent. But this is not possible. You have to let your kid venture out without you. There are places where your kid will meet others in your absence, for example: at school, daycare, or a babysitter's house. To prepare your child for basic safety steps in an emergency, we recommend labelling them with their name, address, and phone number on these beautiful stickers that come in various shapes.
Here we list out 10 kids' safety rules that will help in ensuring safety at school and home:
1. Know Your Name, Number, And Address
As your kid grows up and starts to attend school and play with other kids, he/she will get lost in the crowd. In today's connected world, where practically everyone has a mobile phone, it is easy for your child to contact you in case of an emergency, but still; there are times when calls don't go through or any other technical issues might arise.
So, it is suitable for your child to know that he/she can call someone who isn't on the phone or out at work. Help your child memorize the name, number, and address of anyone who can be contacted in such an eventuality
2. Do Not Eat Anything Given By A Stranger
It is essential to teach your kid about the dangers of eating food given by a stranger. No matter how tempting the treat is, your child should not eat it if it comes from someone they don't know. They could be putting themselves in danger of being hurt or sickened by something a stranger has done to the food.
It is best to teach your kid to politely refuse if someone offers food without your consent or in your absence. If they are given a treat by someone they don't know, they should come and tell you about it right away so that you can decide whether it is safe for them to eat. Keeping communication open like this will help keep your child safe.
3. Do Not Climb The Fence
If your child is playing ball and it goes through a fence into an area they can't reach, it's essential to teach them not to try to retrieve it by climbing through the fence. If something like this happens, your child should ask the help of a grown-up but never go near the fence themselves. This is for their safety, as they could become injured if they try to climb through the fence.
4. Do Not Walk Off The Yard Alone
Children need to know that it is never okay for them to walk out of their yards alone. If a child needs to go somewhere, an adult should always accompany them. This will help keep them safe and prevent getting lost or hurt.
5. Playing Or Experimenting With Fire Is Not Allowed
If your kid is playing with fire, the first thing you should do is remove them from the area immediately. If they are burned, seek medical attention immediately. If the fire is still going, call the fire department. Do not try to put the fire out yourself, as you could get hurt. Once the fire is out, carefully inspect the area for any remaining embers or hotspots that could reignite the fire. Finally, talk to your kid about why playing with fire is dangerous and why they should never do it again.
6. Never Go Anywhere With A Stranger
Always keep your child safe; being familiar with strangers is one way to do that. Teach your child that no matter the reasoning, going anywhere with a stranger is never safe. Tell your kid that if a stranger tells them something like 'Your mom asked you to come with me immediately,' they should stay where they are and shout out for help. Ensure that if there is an emergency, you will always send a family member, like a grandparent or aunt, to be with your kid, not a stranger.
7. No One Is Allowed To Touch Your Kid's Body
As a parent, we are highly protective of our kids. We want them to see the world and be curious about it, but at the same time, we want to make sure they lead safe and happy lives. A world that can be very dangerous for children.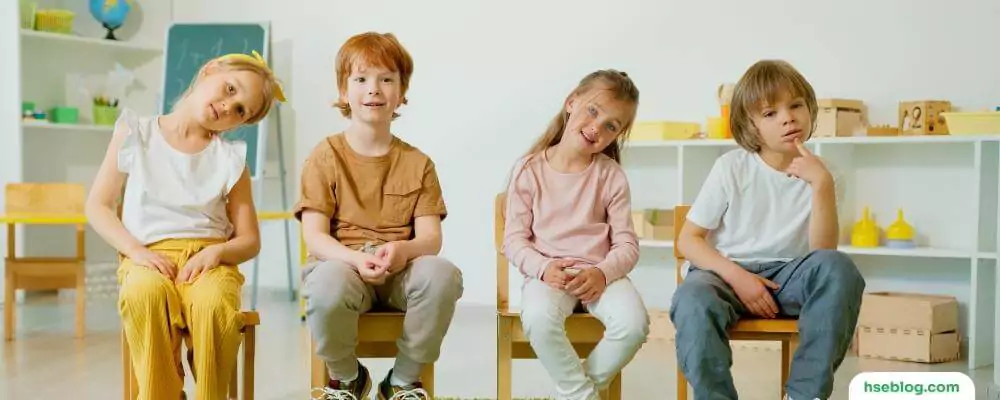 That's why we recommend every parent teach their children about good touch and bad touch – this way, they can have a safe childhood without experiencing any scary experiences and protect themselves from anyone who may wish to harm them in any way.
8. If You Get Lost, Stay Where You Are
If your kid is lost, the first thing they should do is stay where they are. If they see another mom with kids nearby, they can ask her for help. Kids should never leave the place they're lost in, even with another mom. The most common places for kids to get lost are supermarkets. If your kid is lost in a store, they can walk up to the counter and tell the person they are lost.
Anyone who tries to touch them should immediately shout for help and alert people around. This will help ensure their safety.
9. Do Not Share Address And Phone Details With Anyone (Except in Emergency Situations)
Tell your child that sharing personal details like phone numbers, addresses, email ids, or pictures with strangers is unsafe. Any communicated information should always be done with your consent or in your presence. Let them know that anyone who tries to trick or manipulate them into sharing personal details will likely be an adult pushing this because they want something bad to happen to their child.
10. If I Am Uncomfortable, I Will Not Do It
Little boys and girls should always be allowed to make their own choices, including saying no if they don't feel comfortable doing something. Even if all of their friends are doing it or things that you think are perfectly safe (like swimming in a home pool), your child is still allowed to make his or her own decisions. Suppose you encourage your child to do something that makes him uncomfortable. In that case, he may grow up believing that his comfort isn't necessary — which can affect his relationships with others later on.
Do you know how important it is to teach your kid about safety rules for children as soon as they can understand them? You can start teaching some things at just three years old. Both parties use age-appropriate language when speaking with their parents so everyone feels comfortable and understands each other's intentions clearly. Lastly, always keep communication open by asking questions occasionally; this will encourage young ones like BENNY to tell us all sorts of exciting stuff!