The position of a Safety Manager is pivotal in any organization that values the well-being of its employees and the continuity of its operations. This key role can often be a mystery to those not directly involved in workplace health and safety. In our forthcoming blog post, we aim to clarify and expand on the multifaceted responsibilities of a Safety Manager.
A Safety Manager does far more than simply enforce safety rules; they are instrumental in creating and fostering a safe working environment, laying down safety protocols, and ensuring every employee is well-versed in these procedures. They take charge of regular risk assessments, determining potential threats and hazards, and devising strategies to mitigate such risks.
Yet, their role doesn't stop there. Beyond immediate safety concerns, they also drive the adoption of a safety culture within the organization, making safety a fundamental aspect of the company's ethos. They attend to the training and education of employees regarding safety standards, promote safety compliance, and liaise with regulatory bodies, all while staying current with health and safety legislation changes.
Whether you are looking to pursue a career as a Safety Manager, hiring for this position, or simply wish to understand the function and significance of this role within your organization, our blog post provides detailed and comprehensive insight. Stay with us as we journey through a Safety Manager's dynamic and indispensable world.
Safety Manager
A Safety Manager is a company professional responsible for designing, implementing, and monitoring safety protocols throughout the organization. They are crucial to ensuring the company complies with safety standards and regulations to prevent workplace accidents, injuries, and health issues.
Safety Managers typically have a background in occupational health and safety, environmental safety, industrial hygiene, or a related field. Their expertise identifies and evaluates potential workplace hazards, including physical, chemical, biological, and ergonomic risks.
Safety Manager Job Description | Role and Responsibilities
The role of the Safety Manager is key in ensuring that a company complies with its statutory obligations in the areas of safety, health, and welfare. The Safety Manager advises the Directors and Managers on all relevant matters and provides guidance on implementing and maintaining effective systems and procedures.
The Safety Manager also liaises with external agencies, such as the Health and Safety Executive. In addition, the Safety Manager carries out regular audits and inspections to identify any potential hazards or risks. By fulfilling these important responsibilities, the Safety Manager plays a vital role in ensuring the safety of employees and visitors to the workplace.
The Safety Manager is designated responsible by the Health and Safety Director to control and update this Safety Manual and ensure that all Departments operate according to the procedures and instructions.
In particular, the Safety Manager will:
1. Understand The Application Of Legislation
Health and safety is of paramount importance in any workplace. The Safety Manager ensures the company complies with all relevant health and safety legislation. This includes the Health and Safety at Work, etc. Act 1974 sets out employers' general duties to their employees.
The Safety Manager must also be familiar with other relevant legislation, such as the Provision and Use of Work Equipment Regulations 1998 and the Personal Protective Equipment at Work Regulations 1992. By understanding the requirements of these statutes, the Safety Manager can help to create a safe and healthy working environment for all employees.
2. Keep Up To Date With Changes In Current Legislation
As the health and safety manager, it is important to keep up to date with changes in legislation. This way, you can ensure that the company complies with the latest regulations. It is also your responsibility to bring any relevant new legislation to the attention of the director responsible for health and safety. This ensures that the company is aware of any impending changes and can take steps to ensure compliance.
In addition, keeping abreast of legislative changes helps ensure that the company's health and safety procedures are as up-to-date and effective. as possible.
3. Attend Courses/Seminars Run By External Sources
The Safety Manager is responsible for attending courses/seminars run by external sources to enable the organization's accurate interpretation of legislation to enable implementation. The interpretation of legislation is a complex process that requires expert knowledge and understanding. It is essential that the Safety Manager has up-to-date knowledge of legislative changes and how they will impact the organization.
The Safety Manager must communicate this information effectively to senior management and key stakeholders. The Safety Manager must thoroughly understand the legal requirements to ensure that the organization complies with all relevant legislation. Seminars and courses provide an excellent opportunity for the Safety Manager to keep abreast of legislative changes and to gain an in-depth understanding of the implications for the organization.
4. Ensure That All "Assessments" As Required By Legislation
The Safety Manager is responsible for ensuring that all "assessments," as legislation requires, are conducted and reviewed at appropriate intervals and maintaining records. This includes conducting risk assessments, identifying hazards and controls, implementing safety systems and procedures, investigating accidents and incidents, and auditing the safety management system. The Safety Manager must have a good working knowledge of relevant legislation, standards, and codes of practice.
5. Recommend Control Measures And Advise On The Standard Of PPE
The Safety Manager is responsible for the safety of all employees within the company. They work closely with the management team to ensure all health and safety regulations are followed. They also conduct regular risk assessments to identify potential hazards and recommend control measures to mitigate them.
One of the most important aspects of their job is advising on the standard of personal protective equipment (PPE) that employees should be issued. This includes ensuring that the correct type of PPE is used for each task and that it fits its purpose. The Safety Manager also provides training to employees on how to use PPE correctly. By carrying out these duties, the Safety Manager helps to create a safe working environment for all employees.
6. Conduct Health And Safety Inspections
The Safety Manager is responsible for conducting health and safety inspections and preparing reports of all the Company's operations. The Safety Manager will ensure that the workplace is free of hazards and that all employees follow safe work practices. The Safety Manager will also investigate any accidents or incidents that occur in the workplace.
The Safety Manager will prepare reports on the findings of these investigations and make recommendations to prevent future accidents. The Safety Manager will also work with the Human Resources department to develop and implement employee safety training programs.
7. Immediate Rectification Or The Stopping Of Any Operation
The Safety Manager is responsible for the health and safety of all employees. If any situations are found that require immediate rectification or the stopping of any operation, the Safety Manager will immediately contact the Director responsible for health and safety. The Director will then decide whether to rectify or stop the operation. Suppose the Director decides to rectify the situation.
In that case, the Safety Manager will ensure that all employees are informed of the decision and that the rectification is done. If the Director decides to stop the operation, the Safety Manager will be responsible for informing all employees of the decision and ensuring the operation is stopped.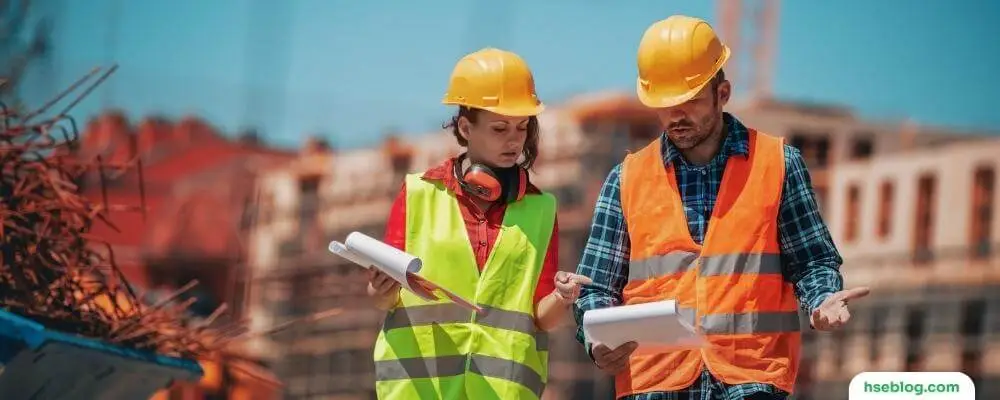 8. To Carry Out Investigations
The Safety Manager is responsible for investigating all accidents and near-miss incidents within the company. They will record the relevant findings on the appropriate forms and work with the relevant departments to implement corrective measures to prevent future incidents. The Safety Manager will also liaise with insurance companies and regulatory bodies.
In addition to their investigative role, the Safety Manager will train employees on health and safety procedures and regulations. They will also conduct regular audits of workplace conditions to ensure they comply with all applicable laws and regulations. Ensuring that all accidents and near-misses are investigated, and corrective measures are put in place, the Safety Manager plays an important role in keeping the workplace safe for all employees.
9. Advice the Company Secretary
The Safety Manager advises the Company Secretary of all incidents reportable under RIDDOR. RIDDOR is the Reporting of Injuries, Diseases, and Dangerous Occurrences Regulations 2013. These regulations require employers, self-employed people, and those in control of work premises to report certain workplace accidents, diseases, and near-misses (dangerous occurrences). RIDDOR aims to help prevent further injuries and illnesses by providing information about what has happened in the past. This information can then identify trends and hazards and implement measures to mitigate risks. By ensuring that all reportable incidents are recorded and investigated, the Safety Manager plays a vital role in protecting the health and safety of employees.
10. Arrange Health Surveillance
Health surveillance is an important part of the Safety Manager's job. By closely monitoring employees' health, the Safety Manager can identify potential hazards and take steps to mitigate them. Health surveillance also helps to ensure that employees are aware of the risks associated with their job and are taking steps to protect themselves. In short, health surveillance is an essential part of maintaining a safe workplace.
11. Highlight Areas Where Training/Certification Must Meet The Standards
To ensure a safe working environment, the safety manager must meet training and certification requirements imposed by legislation, approved codes of practice, or HSE guidance. They are responsible for ensuring that all staff is trained and certified to work safely.
The safety manager must also ensure that all equipment is properly maintained and all safety procedures are followed. They must also investigate any accidents or incidents to discover what went wrong and how to prevent it from happening again. By meeting these standards, the safety manager can help to create a safe working environment for all employees.
12. Bring New Techniques For Improving Health & Safety
The Director of health and safety is responsible for ensuring the workplace is safe for employees. However, the Director cannot be expected to be aware of all the latest advances in health and safety. That's where the Safety Manager comes in. The Safety Manager's job is to keep up with the latest health and safety developments and bring new techniques for improving health, safety, and welfare to the attention of the Director.
In addition to keeping the Director up-to-date on new developments, the Safety Manager also works with employees to ensure that they follow safe work practices. By keeping the Director and employees informed about new advances in health and safety, the Safety Manager helps create a safer workplace.
13. Set A Personal Example By Wearing PPE
A key part of a successful safety manager is setting a personal example. This means wearing appropriate personal protective clothing and equipment and observing all safety requirements and procedures. By doing so, a safety manager sends the message that safety is important and everyone needs to play their part in keeping the workplace safe.
In addition to setting a personal example, a safety manager must proactively identify and address potential hazards. A safety manager can help create a safe and productive workplace by taking these steps.
Additional Role and Responsibilities Of Safety Manager
Indeed, the safety manager plays a significant role in maintaining a safe and productive working environment. However, it is also important to note that their role extends beyond the physical aspects of safety. A Safety Manager is also responsible for promoting a safety culture within the organization. This can be achieved by conducting safety meetings, leading safety training programs, and working with managers and supervisors to ensure that safety rules and regulations are adhered to.
Here are a few more responsibilities of a Safety Manager:
Promote Safety Culture: A Safety Manager plays a pivotal role in developing and nurturing a safety culture within an organization. They must ensure that safety is integrated into every activity and process, encouraging employees to prioritize safety in their daily tasks. They can conduct safety awareness campaigns, organize regular safety meetings, and develop safety recognition programs to incentivize safe behaviors.
Prepare Safety Reports: A Safety Manager should prepare regular safety reports detailing the number of accidents or near misses, their causes, the corrective actions taken, and recommendations for future improvements. These reports document the company's safety record and provide vital data for identifying trends and areas for improvement.
Develop and Implement Emergency Procedures: Safety Managers are responsible for developing and implementing emergency procedures. These procedures should cover various emergencies, including fire, medical emergencies, chemical spills, and natural disasters. In addition, the Safety Manager should also conduct regular emergency drills to ensure all employees know how to respond during an emergency.
Supervise Waste Management: Managing waste properly is integral to maintaining a safe and healthy workplace. Safety Managers should supervise waste handling, storage, and disposal, ensuring compliance with environmental regulations. They should also encourage waste reduction initiatives, such as recycling and reuse.
Psychological Safety: Safety Managers also have a role in promoting psychological safety in the workplace. They should work to ensure that the work environment is free from harassment, bullying, and discrimination. This includes developing and implementing policies to prevent such behavior and training to promote a respectful and inclusive workplace.
The role of a Safety Manager is challenging, requiring a broad skill set and an unwavering commitment to the safety and well-being of all employees. However, a Safety Manager can significantly contribute to creating a safe, healthy, and productive workplace by effectively fulfilling these responsibilities.
Conclusion
In conclusion, the role of a Safety Manager is pivotal in safeguarding the workplace and its inhabitants, ensuring adherence to safety protocols, conducting comprehensive risk assessments, and promoting a safety-first culture. This dynamic position requires a firm grasp of the latest safety regulations and legislation and the ability to effectively communicate and implement these standards across the organization.
By fostering an environment that prioritizes the well-being of its workforce, a Safety Manager significantly contributes to an organization's overall success, productivity, and reputation. This comprehensive understanding of the Safety Manager's role and responsibilities underscores their indispensability in creating and maintaining a secure and healthy workspace for all.