Creating a safe work environment is the collective responsibility of everyone within an organization, from the highest-ranking executive to the newest team member. Our well-being and the success of our organization hinge on our ability to understand, implement, and uphold safety measures in our daily routines. This makes knowledge of workplace safety not just advantageous but absolutely essential.
With this in mind, we have curated this comprehensive guide.' It's a collection of safety messages that focus on various aspects of workplace safety. We've got you covered, from general office safety to construction site hazards, from handling chemicals to emergencies.
We aim to reinforce the safety culture at work, empowering you with actionable messages that can be easily understood and implemented. These bite-sized reminders will inspire you to prioritize daily safety and help you create a safer, healthier, and more productive work environment.
Whether you're a business owner, a safety officer, or an employee, this expansive list of safety messages will serve as a daily reminder to prioritize safety above all else. After all, a safer workplace is a happier, more productive place to be! So, let's begin this journey toward fostering a strong safety culture at your workplace.
What are Safety Messages?
Safety messages are concise guidelines or alerts that offer immediate, practical information regarding potential dangers and safety concerns. Their main purpose is to heighten awareness about possible hazards, encourage the application of safe procedures, and assist in preventing harm, sickness, or even death. Typically found in public areas, particularly within workplaces, safety messages act as a preventive measure to reduce the risk of accidents and injuries.
Benefits Of Safety Messages
Safety messages play a vital role in various environments, especially in workplaces, and offer several benefits:
Injury Prevention: Safety messages can help prevent accidents and injuries by informing individuals of potential risks.
Enhanced Awareness: They educate employees, visitors, or the general public about the safe practices to adopt, thus fostering a culture of safety and awareness.
Compliance with Regulations: Safety messages often help organizations comply with legal requirements and regulations about occupational safety, minimizing legal liabilities.
Increased Efficiency: When safety practices are followed, there is typically less downtime due to accidents or injuries, leading to a more efficient work environment.
Reduction in Costs: Fewer accidents mean fewer medical expenses and less damage to equipment or property, which can lead to significant cost savings.
Reinforcement of Training: Safety messages reinforce and support the training that employees might have received, aiding in the retention and application of safety practices.
Creation of a Safety Culture: Regular reminders and visible signs promote an atmosphere where safety is prioritized, helping to create a culture where everyone is responsible for their own safety and the safety of others.
Support for Non-Native Speakers: In diverse work environments, safety messages can be displayed in multiple languages, ensuring that non-native speakers also understand essential safety information.
Adaptability: They can be tailored to specific industries, equipment, or scenarios, making them versatile tools for addressing various safety concerns.
Positive Public Image: By promoting safety, organizations can project a positive image to clients, stakeholders, and the general public, reflecting a responsible and caring approach.
Safety messages are more than mere signs or instructions; they are integral to maintaining a secure and productive environment, benefiting individuals and organizations.
100+ Safety Messages Of The Day To Make A Safer Workplace
Promoting safety in the workplace is crucial to prevent accidents and ensure the well-being of all employees. Here are 100+ safety messages of the day that can help reinforce a safer workplace:
10 General Office Safety Messages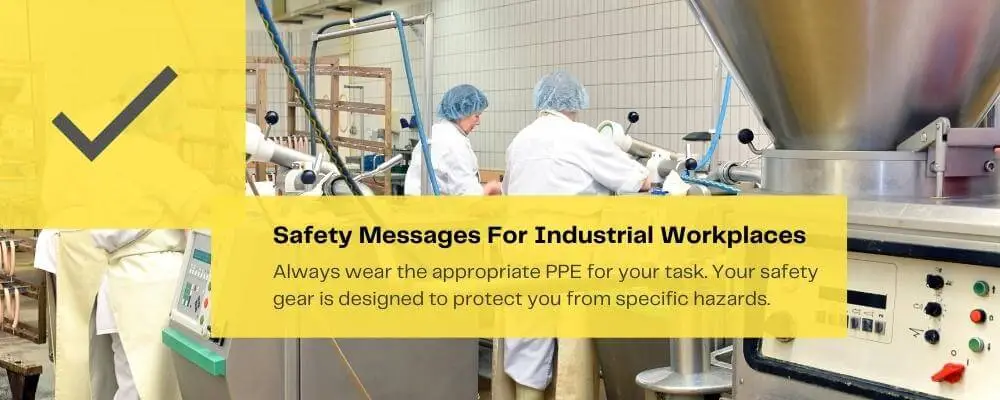 10 Safety Messages For Industrial Workplaces
10 Electrical Safety Messages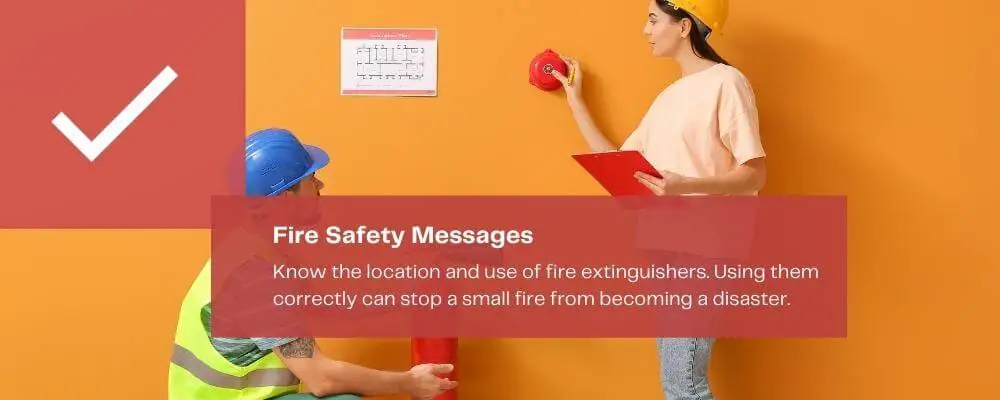 10 Safety Messages For First Aid
10 Chemical Safety Messages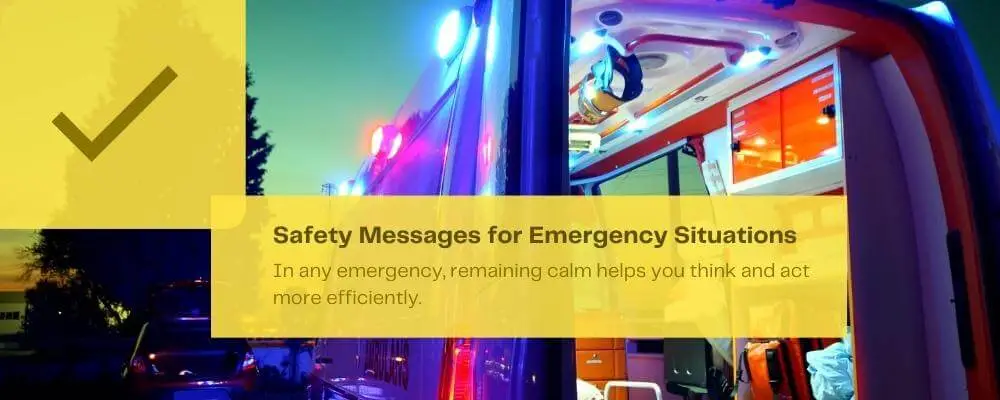 10 Safety Messages for Emergency Situations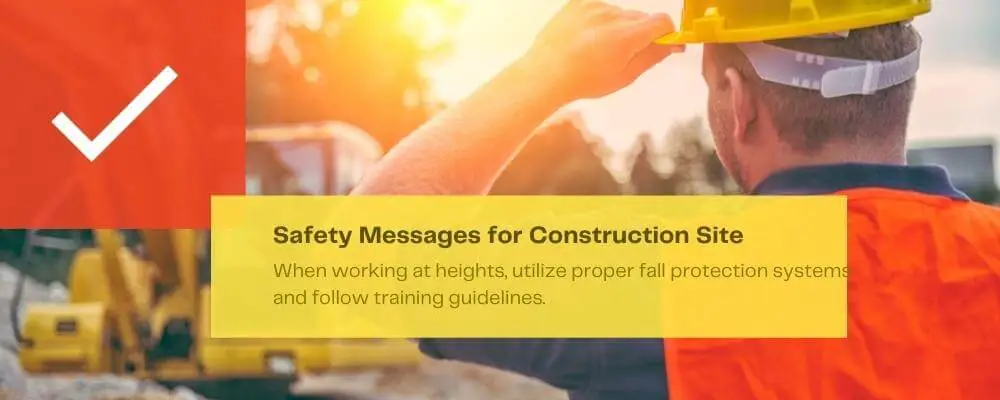 10 Safety Messages for Construction Site Workers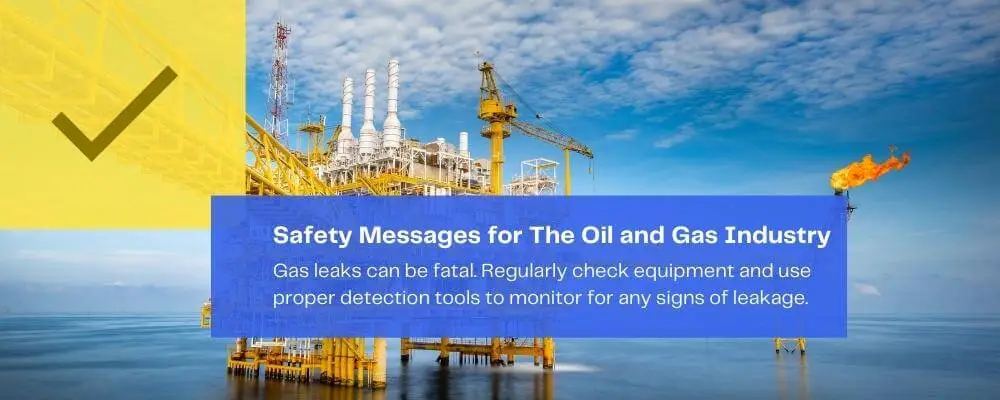 10 Safety Messages for The Oil and Gas Industry Workers
20 Important Safety Messages For Every Type Of Workplace
Effective Tips to Create Safety Messages for Your Workplace
Creating effective safety messages for your workplace is an essential task that can greatly impact the well-being of your employees and the overall safety culture within your organization. Here are some practical tips to help you craft impactful safety messages:
Understand Your Audience: Know who you are addressing. Different roles may require different safety messages. Tailor the language and content to suit the understanding and needs of the recipients.
Keep It Simple and Clear: Use simple language that everyone can understand. Avoid technical jargon unless it's industry-specific and widely known by your employees.
Make It Actionable: Provide clear, actionable instructions or tips. Tell employees exactly what they need to do to stay safe.
Use Visual Aids: Use visuals like illustrations or symbols to make the messages more engaging and easier to understand.
Highlight the Importance: Explain why the safety message is essential. Linking the message to personal well-being or legal compliance can increase its impact.
Be Positive and Encouraging: Focus on what to do rather than what not to do. Positive framing can often be more motivating.
Rotate and Refresh the Messages: Regularly update safety messages to keep them fresh and relevant. Repeating the same messages can lead to complacency.
Include Real-Life Examples: If appropriate, use real-life examples or stories that illustrate the importance of the safety message.
Test Your Messages: Before widespread distribution, test the messages with a small group to ensure they are understood and resonate with your employees.
Make Them Accessible: Place safety messages where they will be seen and consider different formats (e.g., posters, emails, announcements) to reach everyone in the organization.
Encourage Feedback: Allow employees to provide feedback or suggest new safety messages. Involving them in the process can increase engagement and compliance.
Link to Additional Resources: If the safety topic is complex, provide links or references to more detailed information, such as manuals or training videos.
Align with Organizational Values: Ensure your safety messages align with your organization's core values and overall safety policies.
Create a Sense of Community: Encourage a collective safety responsibility. Messages promoting teamwork and shared accountability can foster a stronger safety culture.
Monitor and Evaluate Effectiveness: Track how well your safety messages work. Are incidents reducing? Are employees more aware and compliant? Adjust as needed.
Effective safety messaging is not just about content but also about context, delivery, and continuous improvement. By applying these tips, you can create safety messages that resonate with your workforce and contribute to a safer, more conscientious workplace environment.
Conclusion
These safety messages are not just words on a page; they are vital tools that can make a tangible difference in the well-being of every individual within your organization. They remind daily that safety is not a one-time task but an ongoing commitment.
We hope these safety messages inspire and guide you in creating an environment where safety is not an afterthought but a fundamental part of daily operations. By implementing and reinforcing these principles, you can pave the way for a more secure, productive, and fulfilling workplace where everyone can thrive without fear of accidents or injuries.
Ultimately, safety is not just about following rules and regulations; it's about caring for ourselves and those around us. Let's choose to put safety first every single day, ensuring that our workplaces are not only places of business but sanctuaries of well-being.
Thank you for joining us on this journey toward a safer workplace. Together, we can make safety a priority and a value embedded in the fabric of our professional lives. Stay safe, and keep inspiring safety in others!