Creating a safe and healthy work environment is a legal obligation and critical to maintaining productivity and employee satisfaction. Regular safety meetings play a crucial role in this effort. They provide an opportunity to reinforce safety policies, address concerns, and learn about potential hazards. However, organizing these meetings can often seem daunting, especially when selecting relevant topics that resonate with your team.
To help you facilitate effective discussions about safety, we've curated a list of 25 safety topics for meetings. Covering a wide range of issues from ergonomic practices to chemical safety, these topics can help ensure that safety is always at the forefront in your workplace, ultimately leading to a better and safer work environment for everyone.
Safety Meetings
Safety meetings, also known as safety briefings or safety talks, are formal gatherings in a professional setting where employees, management, and sometimes even third-party stakeholders come together to discuss health and safety concerns within the workplace. They typically last between 20 to 45 minutes and can involve a variety of formats, such as presentations, group discussions, or hands-on demonstrations.
The purpose of these meetings is to provide information about existing or potential hazards in the workplace, explain safety protocols and procedures, address any safety concerns or incidents that have occurred, and provide training as part of the organization's safety program. They also reinforce the importance of safety guidelines and cultivate a safety culture within the organization.
Safety meetings are not usually daily or weekly occurrences. Instead, they tend to occur under specific circumstances, such as onboarding new employees, following a workplace incident, changing industry safety standards or regulations, or introducing new equipment or procedures that may carry additional risks. By maintaining open lines of communication about safety issues, these meetings help ensure the welfare of all employees and contribute to creating a safer, healthier work environment.
Safety Topics For Meetings
Safety topics for meetings are essential to promote a safety culture and ensure everyone's well-being in the workplace. Here are some safety topics you can consider for your meetings:
1. Slipping, Tripping, and Falling
Slips, trips, and falls constitute some of the most frequent workplace accidents and can result in serious injuries. To mitigate these risks, it is essential to maintain clear, unobstructed walkways and workspaces. Regular cleaning and immediate attention to spills or wet surfaces can prevent slippery conditions.
Additionally, promoting suitable footwear with a good grip can reduce the risk of slips and trips. Adequate lighting is also critical, as it illuminates potential hazards and allows employees to navigate their environment safely. Implementing these practices can significantly reduce the incidence of these common accidents.
2. Ladder Safety
Ladder safety is essential in many workplaces, such as construction sites, warehouses, and offices. Incorrect use of ladders can lead to falls and serious injuries. Employees should be trained on the right way to use ladders, which includes choosing the correct ladder for the task, checking it for any defects before use, setting it up on a firm and level surface, and maintaining three points of contact (two hands and a foot, or two feet and a hand) at all times while climbing or descending. The proper methods of ascent, descent, and dismounting should also be covered. Reinforcing these safety measures regularly can prevent ladder-related accidents and ensure a safer work environment.
3. Confined Space Safety
Confined space safety is a critical concern in construction, mining, or manufacturing industries, where employees may need to work in tight, enclosed areas. These spaces can present a range of hazards, including a lack of oxygen, toxic gases, or the risk of fire or explosion. It's crucial to discuss the specific risks associated with each confined space, the necessary precautions to take before entering (like checking oxygen levels or removing flammable substances), and the appropriate use of personal protective equipment.
Workers should also be trained in emergency procedures in case of an incident. By addressing these topics, companies can help ensure their employees are prepared and protected when working in these challenging environments.
4. Hazard Communication
Hazard communication is a key safety concern in many workplaces, particularly those involving hazardous substances. Employees should receive training on identifying hazardous materials based on their labels and Material Safety Data Sheets (MSDS). They should also understand the proper handling procedures to avoid exposure and disposal methods to prevent environmental harm.
The correct use of personal protective equipment when dealing with these substances should also be highlighted if necessary. By improving employees' understanding of these hazards, businesses can reduce the risk of accidents and ensure safer handling and disposal of dangerous substances.
5. Lockout/Tagout Procedures
Lockout/Tagout procedures are critical in ensuring worker safety while servicing or maintaining machinery and equipment. These procedures involve de-energizing and disabling machinery to prevent unexpected startup or energy release, which could cause harm. Regular discussions about these procedures are essential and should include the step-by-step process of shutting down, isolating, blocking, and securing machines before performing maintenance tasks.
Additionally, they should cover the proper way of applying lockout/tagout devices and the importance of only allowing the individuals who applied them to remove them. By maintaining rigorous lockout/tagout practices, companies can significantly reduce the risk of injuries related to the maintenance of machinery and equipment.
6. Working at Heights
Working at heights is common in several industries and presents unique falls-related risks. It's essential to discuss the safety measures needed to mitigate these risks. Employees should be trained on correctly using fall protection equipment, such as harnesses, guardrails, and safety nets, and understand the importance of regular equipment inspections. They should also know how to assess their environment for hazards like unstable surfaces or windy conditions.
Moreover, procedures for safely ascending, descending, and working at height should be covered. By emphasizing these precautions, you can significantly reduce the risk of fall-related injuries in the workplace.
7. Drug or Alcohol Abuse on the Job
Drug or alcohol abuse on the job is a serious issue that can severely impact an individual's health, productivity, and workplace safety. It's crucial to articulate the company's policy regarding substance use clearly and strictly, highlighting that impairment at work is unacceptable. Employees should be educated about the detrimental effects of substance abuse on their work performance, personal lives, and health.
Organizations should also provide information on resources such as counseling or rehabilitation programs, offering support to those struggling with addiction and fostering an environment of understanding and assistance rather than judgment or punishment.
8. Workplace Violence
Workplace violence, ranging from threats and verbal abuse to physical assaults, poses significant safety and health risks. Educating employees about recognizing potential signs of workplace violence, including aggressive behavior, verbal threats, or sudden changes in behavior, is critical. Establishing clear protocols for responding to such situations, including immediate reporting mechanisms, can help prevent escalation.
By cultivating an environment of trust and support, employees will feel encouraged to express concerns about potential violence without fear of retribution, contributing to a safer and healthier workplace.
9. Manual Handling
Manual handling, involving lifting, carrying, moving, or otherwise manipulating objects by hand, is a common cause of workplace injuries. Proper training on safe manual handling techniques is essential to prevent these injuries. This includes understanding the principles of safe lifting (such as lifting with the legs, not the back), knowing when to ask for help or use equipment, and how to safely move or carry loads.
Regular refresher courses can help keep this knowledge up-to-date and reinforce the importance of safe manual handling. Companies can significantly reduce the risk of strains, sprains, and other related injuries by equipping employees with these skills.
10. Personal Protective Equipment (PPE)
Personal Protective Equipment (PPE) is a vital safety aspect in many work environments, particularly in healthcare, construction, and manufacturing industries. Proper use of PPE can significantly reduce the risk of injury or exposure to harmful substances. Employees should be trained on how to use, maintain, and dispose of various types of PPE correctly. This includes understanding which type of PPE is appropriate for different tasks, how to wear it correctly for maximum protection, how to clean and maintain reusable PPE, and how to safely dispose of single-use PPE. Reinforcing these guidelines helps ensure the effectiveness of PPE and promotes a safer working environment.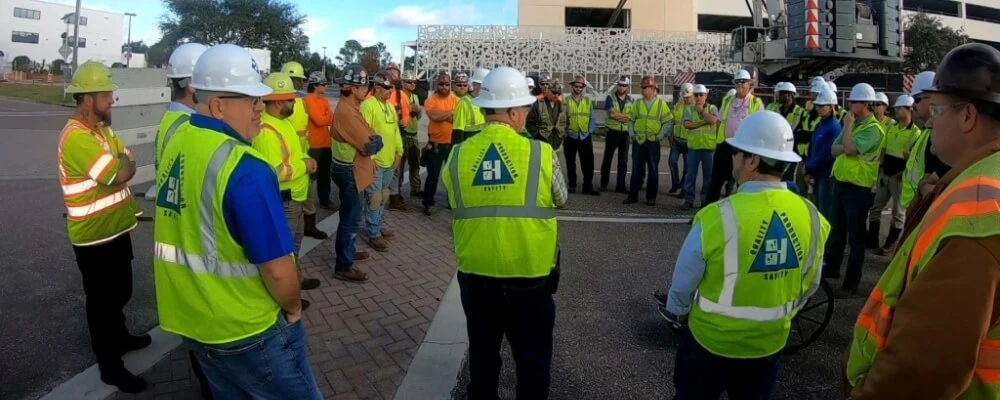 11. Electrical and Fire Safety
Electrical and fire safety are paramount in virtually all work environments. Employers should discuss necessary precautions to prevent electrical shocks, such as not overloading outlets, keeping liquids away from electrical equipment, and not using equipment with damaged cords. Regular electrical equipment inspection and maintenance are essential to ensure they're in safe working condition.
Regarding fire safety, employees should be educated on preventative measures like proper waste disposal and avoiding the blockage of fire exits. Additionally, fire safety training should be conducted periodically, ensuring that employees know how to use fire extinguishers, understand evacuation procedures, and know emergency exit locations. This comprehensive approach helps minimize the risk of electrical and fire-related incidents.
12. Ergonomic and Workplace Stress
Ergonomics and workplace stress are critical factors in employee productivity and overall well-being. In discussions about ergonomics, employees should learn how to design their workspace for comfort and efficiency, thus reducing strain and the risk of injury. This could include correct seating posture, optimal placement of computer screens, and usage of ergonomic office equipment.
Alongside this, it's crucial to manage work-related stress by promoting regular breaks, time management, balanced workloads, and fostering a supportive work environment. A holistic approach addressing physical and mental stressors can significantly improve health outcomes and productivity.
13. Reporting Hazards and Incidents
Promptly reporting hazards and incidents is crucial in maintaining a safe workplace environment. Employees should feel encouraged and empowered to report any safety concerns or incidents without fear of reprisal. This reporting allows for quick corrective action, reducing the likelihood of accidents or injuries.
Companies should have clear, straightforward procedures for such reports, including dedicated reporting lines, online forms, or direct communication with safety officers or supervisors. Regular discussions on this topic ensure that all employees know the reporting process and its significance in workplace safety.
14. Chemical Safety
Chemical safety is vital to many workplaces, including labs, factories, and cleaning services. Employees handling chemicals should be trained to use, store, and dispose of these substances safely to prevent accidents, spills, and potential health hazards. They should understand how to interpret Material Safety Data Sheets (MSDS), which provide detailed information about each chemical's properties, hazards, protective measures, and safety precautions.
Training should also cover using personal protective equipment when handling chemicals and emergency procedures in case of accidental exposure or spillage. Regularly discussing these procedures helps ensure a safer workplace environment and reduces the risk of chemical-related incidents.
15. First Aid Training
First aid training is essential to workplace safety, equipping employees with the skills to respond quickly and effectively during medical emergencies. Such training can range from basic skills like wound dressing, CPR, and handling of minor injuries, to more advanced practices for specific industries. By understanding these first aid techniques, employees can not only help stabilize a situation until professional medical help arrives but could potentially save lives.
It is recommended that these training sessions be conducted regularly to keep the information fresh and up-to-date. Creating a workplace where employees are confident in responding during emergencies promotes safety and readiness.
16. Equipment Safety
Equipment safety is crucial in many industries, from manufacturing and construction to hospitality and healthcare. All machinery or equipment employees should receive comprehensive training on correct usage, safety protocols, and the risks associated with improper use. This training should include preventative measures like regular equipment inspections, maintenance, and reporting faulty machinery immediately.
Ensuring that each employee is competent in handling their equipment, the risk of injuries due to mishandling or malfunctions can be significantly reduced, leading to a safer and more efficient workplace.
17. Mental Health Awareness
Mental health is a vital aspect of overall employee wellness and productivity. Creating an environment where mental health is acknowledged and supported is important. Regular discussions about the significance of mental well-being, signs of common mental health issues, and stress management techniques can help to destigmatize these topics and encourage employees to seek help when needed.
Additionally, companies should provide resources such as counseling services, mental health days, and wellness programs. Ensuring that employees are aware of these resources and feel comfortable using them is critical in supporting mental health in the workplace.
18. Noise Exposure
Noise exposure in the workplace can lead to permanent hearing loss or other hearing complications over time. Discussing ways to mitigate these risks is crucial in environments with high noise levels. This might include operating noisy machinery during specific hours, maintaining equipment to reduce noise, and creating quiet zones for employees. Alongside these measures, personal protective equipment such as earplugs or earmuffs is often necessary.
Employees should understand the correct usage of such protection and its importance in preventing hearing damage. Regular hearing checks can also help monitor employees' hearing health and detect any issues early.
19. Office Safety
Office safety, though seemingly straightforward, is important in maintaining employee health and productivity. This includes setting up workstations correctly to minimize strain and discomfort—employees should be aware of the appropriate height for desks and screens, the correct positioning of keyboards and mice, and how to adjust chairs for optimal support. Discussing correct posture can help prevent long-term issues like back pain and repetitive strain injuries.
Additionally, the importance of taking regular short breaks should be emphasized, as this can help reduce fatigue and stress on the body. Companies can help ensure their employees remain healthy and productive by maintaining a safe and comfortable office environment.
20. Emergency Evacuation Plans
Emergency evacuation plans are vital to workplace safety, designed to ensure quick and orderly evacuation during emergencies such as fires, earthquakes, or chemical spills. Regularly reviewing these procedures informs employees about the quickest and safest exit routes, meeting points, and roles during an evacuation.
Drills should be conducted periodically to practice these procedures and to identify any areas of confusion or inefficiency that need to be addressed. Ensuring all employees are familiar with these plans and can execute them calmly and efficiently in emergencies can significantly enhance safety and reduce potential harm.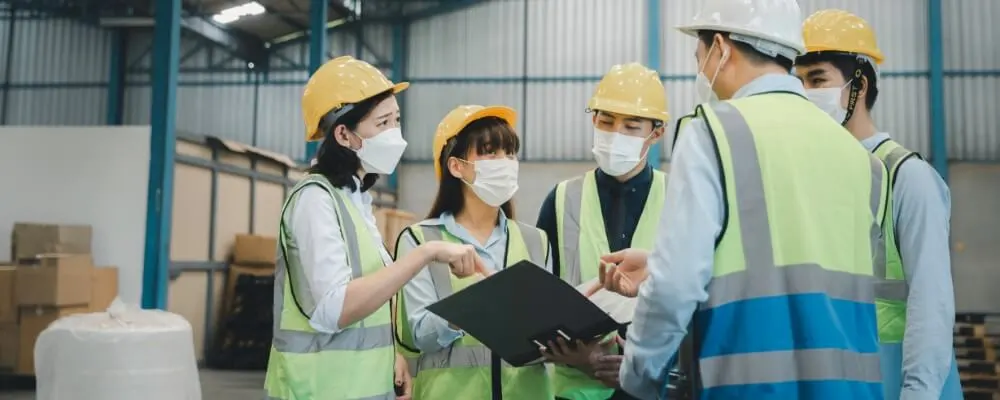 21. Radiation Safety
Radiation safety is a significant concern in workplaces where employees might be exposed to radiation, such as in healthcare facilities, research laboratories, or nuclear power plants. Employees should be trained on the principles of radiation safety, often summarized as time, distance, and shielding – limiting exposure time, maintaining a safe distance from radiation sources, and using appropriate shielding materials. They should understand the different types of radiation, the potential health effects, and the safety equipment and procedures designed to protect them, such as using dosimeters to monitor exposure and wearing lead aprons when necessary. Regularly revisiting these principles can help ensure employees remain vigilant and well-protected.
22. Fatigue Management
Fatigue management is critical to workplace safety, as tiredness can significantly impair work performance and lead to serious accidents. It's important to discuss the signs of fatigue, such as persistent tiredness, decreased alertness, slow reaction times, and poor decision-making. Employees should understand the importance of adequate rest and sleep, balanced nutrition, and regular exercise in maintaining energy levels.
Additionally, discuss strategies for managing fatigue, including taking regular breaks, managing workload effectively, and seeking medical advice if persistent fatigue is experienced. By promoting a culture that values rest and recognizes the risks of fatigue, employers can contribute significantly to the overall safety and productivity of the workplace.
23. Safe Use of Power Tools
Safely using power tools is crucial in industries like construction, manufacturing, or woodworking, where these tools are frequently used. Employees should be educated about the proper use, maintenance, and safety precautions associated with each type of power tool they use. This includes understanding the functions and limitations of each tool, wearing appropriate personal protective equipment, checking tools for damage before use, and maintaining them correctly to ensure their safe operation.
Emphasizing that tools should only be used for their intended purposes can help prevent misuse-related accidents. Regular discussions and training on these topics help ensure employees operate power tools safely and competently, reducing the risk of injuries.
24. Biological Hazards
Biological hazards can pose a significant risk to health in certain workplaces, such as healthcare facilities, laboratories, or waste management sites. Employees in these settings should be trained to understand the potential risks of exposure to biological agents like bacteria, viruses, or other biohazardous materials. This includes proper use of personal protective equipment, good hygiene practices, safe handling procedures, and disposal methods for biohazardous waste.
Procedures for exposure incidents, including reporting, first aid, and medical follow-up, should also be explained. Regular discussion can help prevent exposure incidents and maintain a safer working environment.
25. Personal Hygiene
Personal hygiene is crucial in maintaining a healthy and safe working environment, particularly in preventing the spread of infectious diseases. Regular discussions should be held on best practices, such as regular handwashing with soap and water, using hand sanitizers when soap isn't available, keeping workstations clean, and practicing good respiratory etiquette, like covering mouth and nose when coughing or sneezing.
It's also important to encourage employees to stay home when feeling unwell to prevent the potential spread of illness. Additional measures like wearing masks or social distancing might be needed in public health crises. Maintaining good personal hygiene benefits everyone and contributes to a healthier working environment.
Conclusion
Prioritizing workplace safety ensures employees' well-being and fosters a positive work culture and productivity. By discussing the 25 safety topics outlined in this article in your safety meetings, you can create an environment where everyone feels empowered to uphold safety standards.
Remember, creating a safer workplace is a continuous journey that requires regular discussions, ongoing training, and constant vigilance. By investing in these safety talks, you invest in the well-being of your most valuable resource – your employees.